Red Sea LiveaboardPublished 10/04/2017
In April 2018 we will be heading the Egypt for a red sea liveaboard diving the best the red sea has
to offer. The trip includes flights, transfers, Egyptian visa with a guide to help us through immigration
plus all the diving, food and drink while on this amazing vessel. The cost of the trip
is £1328 and if you are a member of the underwater adventures dive club you will getting a refund
of at least £70 of the full price once the trip is over, dropping the overall price to just £1258.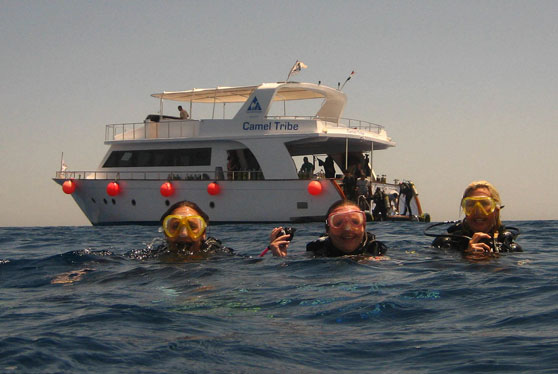 Itinerary Highlights:
Brother Islands
The northernmost part of Egypt's offshore marine park is made up of two islands 60km away from the coast and 140km south of Hurghada. The larger island (complete with a lighthouse from 1883) is 400 metres long with a spectacular plateau on the south-east corner which is dotted with coral mountains and famous for thresher and grey reef shark sightings. The western side of the island has two impressive wrecks which both lie almost vertical on the side of the reef. The most spectacular are the Numidia, a large cargo steamer which sank in 1901 and now lies on the tip of the island between 10 and 80 metres covered in soft corals and frequented by large pelagic predators. The smaller wreck of the Aida (sitting between 30 and 65 metres) was a lighthouse authority supply vessel which sank in bad weather in 1957.
The smaller island, whilst only a little over 200 metres long, hosts an incredible concentration and variety of marine life. There is a pristine fan coral forest, a massive collection of hard and soft corals and compelling overhangs to explore. The highlight is the fish life; with regular seasonal sightings of hammerhead, thresher, grey reef, and oceanic whitetip sharks.
Daedalus
This huge tear-drop shaped reef rises from the seabed in the middle of the Red Sea, 80km offshore and more than 300km south of Hurghada. Easily recognized by its zebra-striped lighthouse, this reef offers some of the most amazing dives in the Red Sea. The sheer walls are covered in over-grown hard coral formations and a variety of reef fish. Napoleon wrasses and turtles are often cruising by, but make sure you keep your eyes open in the blue! Daedalus is one of those places where anything can happen... oceanic whitetip, grey reef, and thresher sharks are often sighted, but Daedalus is most famous for its scalloped hammerhead sharks which can often be seen in large schools out in the blue during the summer months. The sheer size of this reef means that you can do several dives here and never get bored!
Elphinstone Reef
A Red Sea legend; a finger-shaped reef, with north and south plateaus covered in hard and soft corals, unpredictable and exciting this truly is an awesome reef where hammerhead sharks are regularly spotted in the summer and oceanic whitetip sharks often congregate in large numbers during late autumn.