What is the PADI rescue diver course?Published 31/03/2018
What is the PADI rescue diver course?

​
I've been asked a number of times over the past couple of month about the
PADI rescue diver course
, what's it about, what will I learn, why should I take this course. So, I thought I'd write a little blog about the
PADI rescue diver course
to try and answer some of these questions.
The
PADI rescue diver course
is said by most who take it to be the most challenging but also the most enjoyable of the PADI core courses. It will push you to think about and how best to deal with problems before they happen and how best to avoid them in the first place. Through a number of scenarios which will take place over a weekend, you will be asked to deal with situations that you might come across on any day while scuba diving, from a missing diver to something as simple as a diver going into the water having forgotten something they need to complete their scuba dive like a weight belt or forgetting to turn their air on fully. Simple things but you will learn that even a simple thing can cause problems later on in a dive.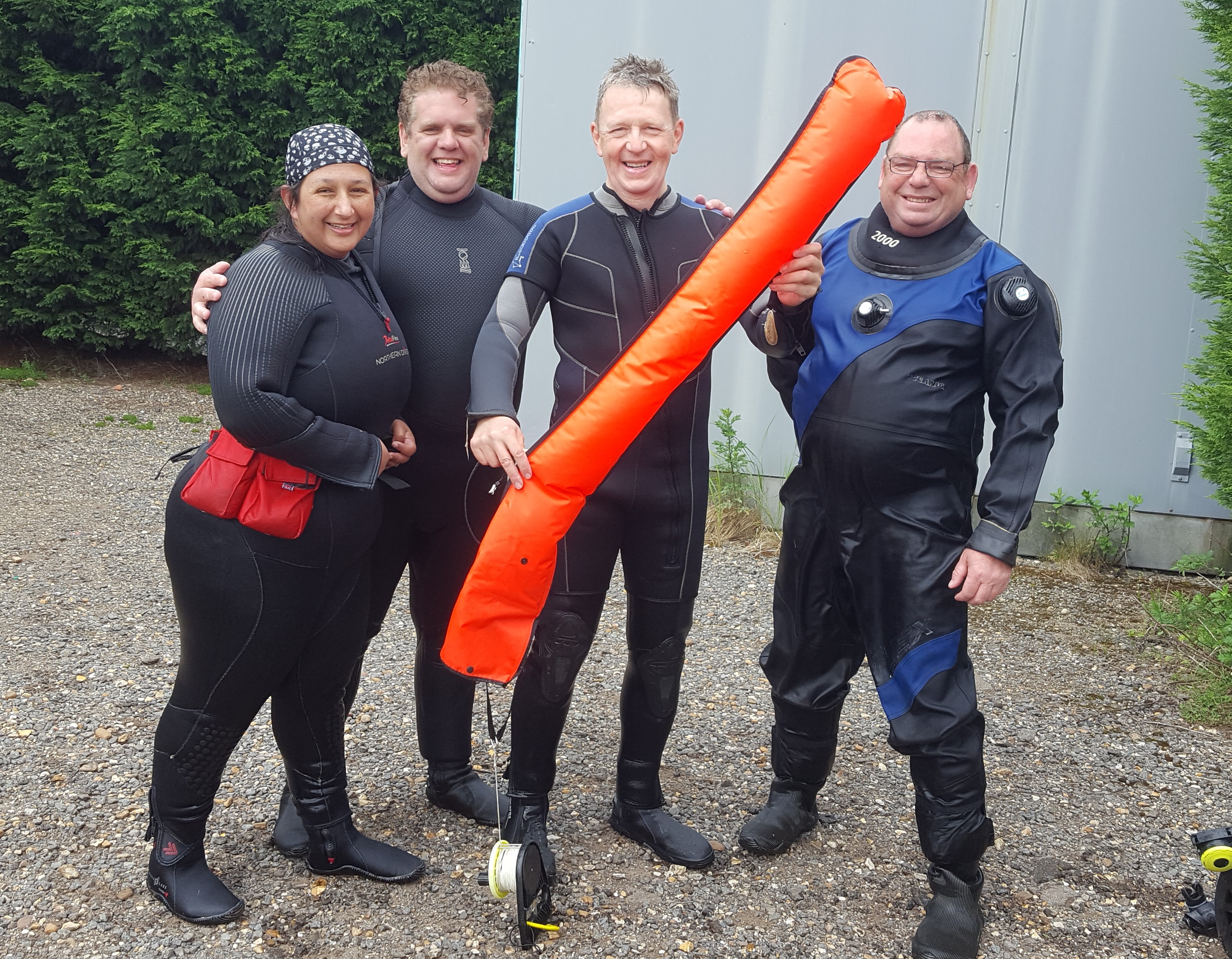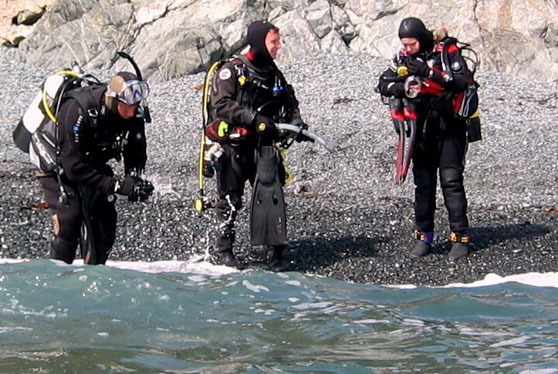 But the
PADI rescue divers course
is more than just scenario practice. You will start the course with the
PADI Rescue diver online theory
, the codes for this will be sent to you as soon as you sign up for the course, so you can get started straight away. The
PADI rescue dive online theory
will take you through how to recognize problems before they happen, the stressors you might be able to see in a person before they dive which might lead to that scuba diver having problems on the dive, you'll be surprised at how little changes in how a person is acting can show you that this person is not comfortable and a little stressed and even a little bit of stress can lead to perceptual narrowing causing a scuba diver to focus one little thing thus allowing a scuba diver to miss other things that might be going wrong.
You will learn that it is OK to say that you don't want to dive. Be it at this location, in this weather or because you're just not feeling right today.
On top of the phycology of scuba diving, the
PADI rescue diver theory
will take you through the most common problems people will come across with their scuba diving equipment which can lead to problems on a dive and it will talk about how important it can be to have something as simple as a spares box, how having access to a new fin strap or a cable tie can solve a problem that is stressing a diver out and by solving this problem for them now will save possible extra problems later in a dive.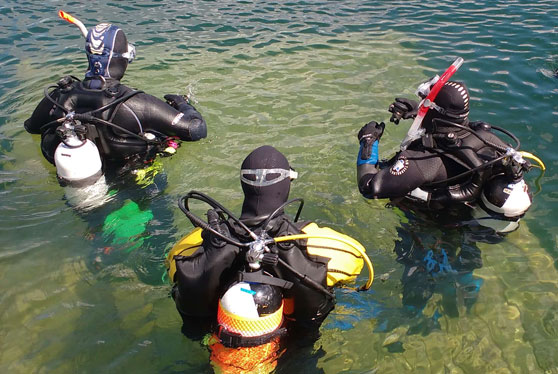 Also, during the
PADI rescue diver online theory
you will be guided through how best to deal with problems once they have happened in a safe and calm manner
. Like how to deal with someone who is panicking both on the surface and underwater. This part of the course we will also go over in the Deep swimming pool at the Robinson Swimming pool in Bedford which is deep enough to actually practice the safety skills before we go into
open
water, and this is where the fun begins. You, along with the rest of the students on your course will get to practice the basic safety skills using fun games designed to help you learn. By using games and making it fun, we use the latest teaching theory on how to reinforce skill learning in a way that is easy for your mind to recall when it needs to allow you to act faster and better in a situation.
The basic skills we go over in the pool will be gone over again when we go to open water to help refresh your mind and again reinforce these actions in your mind.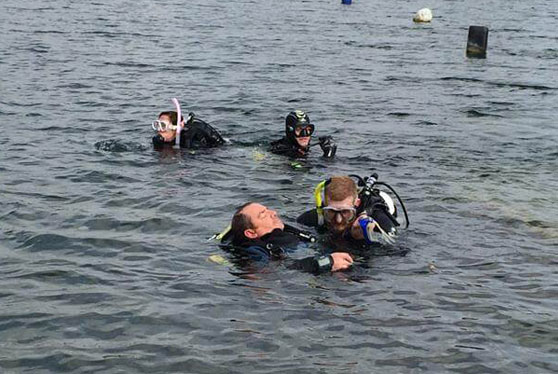 Once at the open water site, you will be put in change as safety divers for the weekend. You will be asked to do a risk assessment of the site so that you and your fellow students start to think clearly about what might go wrong. You will be shown how to use our emergency O2 kit which is always stowed in the van in case of a diving emergency, you will be asked to complete an emergency assistance plan so that you know what you will do in
an
emergency, and you will be asked to keep an eye on everyone just in case something "
Goes
Wrong". The dive team
have
a list of scenarios we can use to test your response. The important thing is to act and to do so with a clear mind. The scenarios could be anything, from a missing diver to someone having a heart attack (which is actually the most common reason behind deaths in scuba diving in this country) and how you deal with these scenarios will be assessed by the dive team so that at the end of the weekends we will all sit down for a chat about what we did. This allows you to think about everything that has happened and how you have dealt with it and most importantly, what you might do differently to make it easier should you ever be in a similar situation again. It's this reflection at the end of the weekend which helps you reinforce everything you have
learned
and makes you the best PADI rescue diver you can be.

So if you would like to take your scuba diving to the next level and become a PADI rescue diver, give us a call on 07805045867 or drop us an email by clicking here.