Dive Show 2018 at the NEC BirminghamPublished 31/10/2018
Dive show 2018
This weekend a few of the dive club members headed up to the Dive Show at the NEC in Birmingham to check out the latest equipment, check out the latest deals on scuba diving trip's and to catch up with some old friends.

We arrived around 10 am to avoid the first big rush which often happens at events like this but arrived early enough to take full advantage of our discounted tickets we got through the 2 for 1 offered by PADI to PADI instructors. Even though it had been moved to a new hall inside the NEC it was still very busy with a very good atmosphere.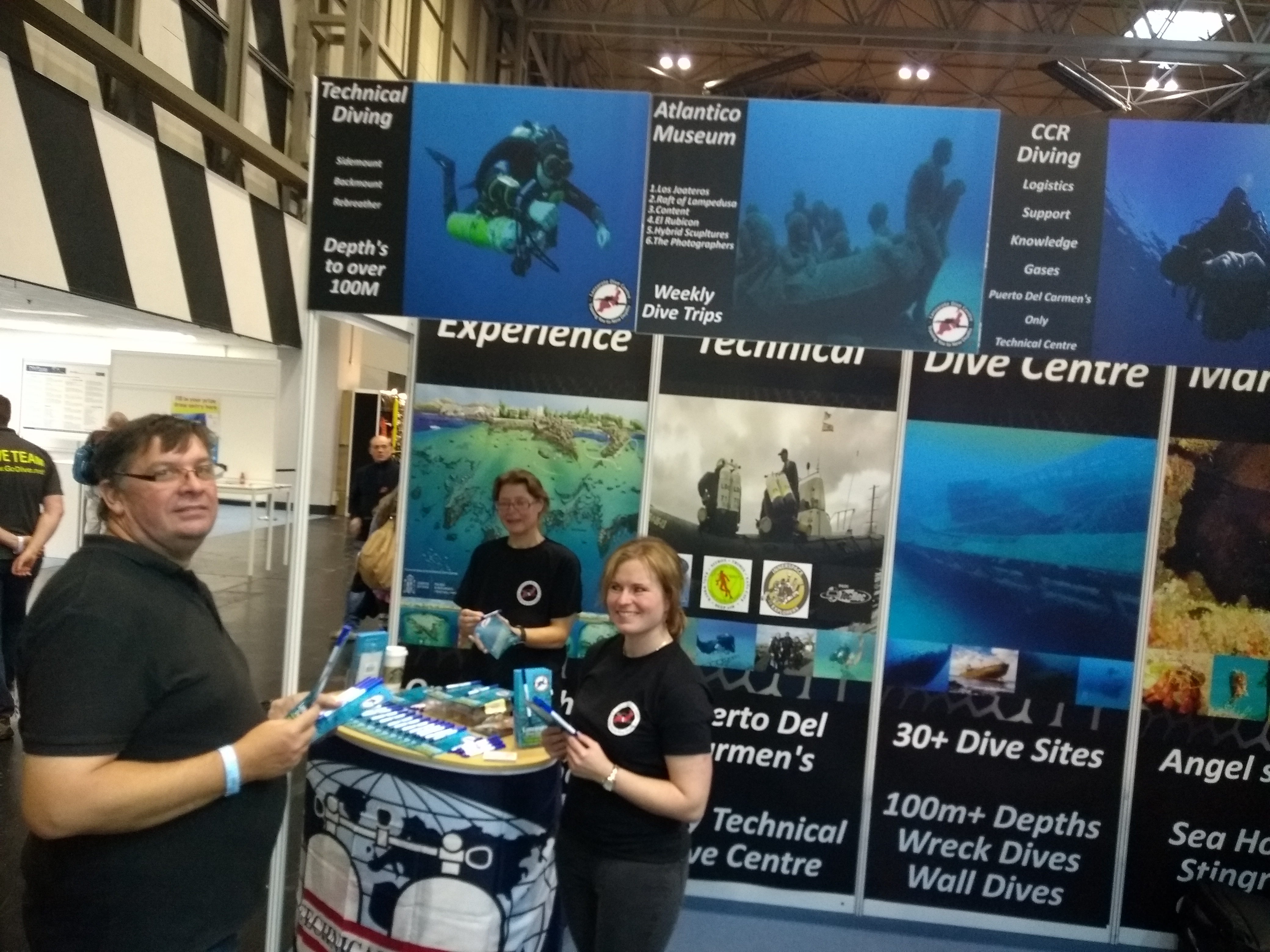 Just inside the main door we ran into our friends from Lanzarote
dive
centre
where we often head to early in the year to get a start on the dive course we run while it's still cold here in the UK, plus it is also home to the museum of the Atlantic, a rather special experience for scuba divers with a number of sculptures specially placed in a protected bay at a shallow enough depth for every level of scuba diver to appreciate (click here to check out the video from our last trip there). It's always nice to get a little bit of warm water diving in at the beginning of the year.

Has we headed around the show checking out the stall's and seeing what they had to offer on our way run to the UK diving zone we ran in to a few of the instructors from New horizon's
dive centre in Macclesfield where I had staffed a PADI IDC (instructor development course) earlier on this year with Steve Prior as course director.

After a quick catch-up with them, we made it over to the UK diving section to check out new scuba diving locations for next year and came across a very good deal for a trip to dive St Abb's just over the board in Scotland. I've been there before and the scuba diving is great but it has been a few years since I've had a chance to get up there but with one of the dive club's members having moved up to Yorkshire recently, he has agreed to arrange a dive club trip to dive there for the whole club and it will give everyone a chance to pop up and visit him.

A Quick stop for refreshments at the bar we headed around the far side of the dive show where we ran into the guys from London hyperbaric at Whipps Cross hospital where we go to for our yearly dry dive, a dive in a recompression chamber to experience what is like to scuba dive down to 40metres and the effects it has on your mind and body but while in the safety of a controlled hospital environment.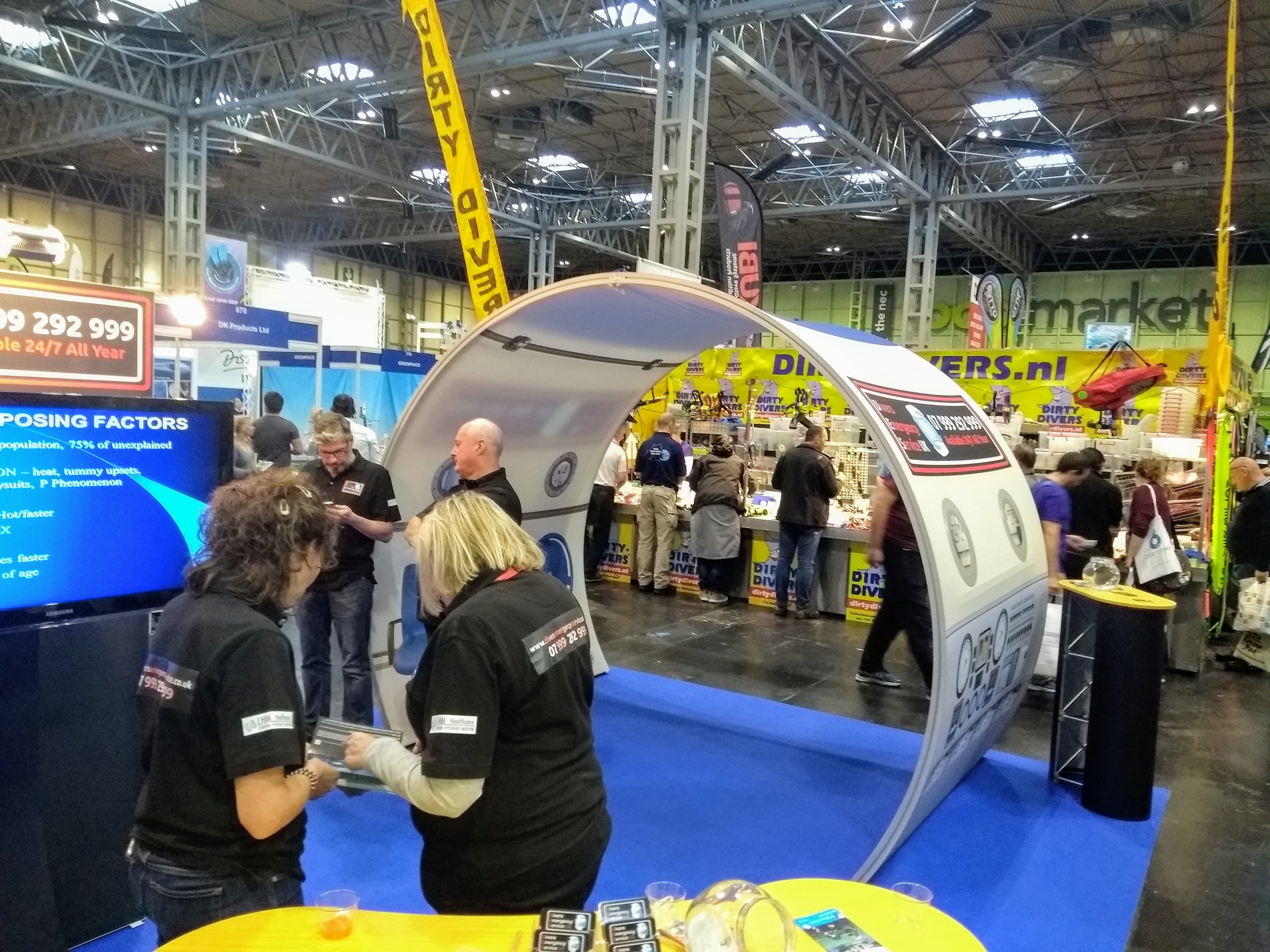 Next stop was the holiday's part of the Dive Show where we found so many places to go diving and so many ideas for Future trips, so many cool things to go and see which are only open to scuba divers, we are so lucky in this sport. We also stopped off to have a quick chat with Holly from Diverse Travel through whom we are arranging next year's scuba diving trip to the Maldives, keep an eye open for details on that coming soon.

All in all, it was a great day out and I really enjoyed catching up with others in the scuba diving industry which I don't get to do that often as they live all around the world.