How do I learn to scuba divePublished 19/04/2019
How do I learn to scuba dive?
Learning to scuba dive is a dream for most people and it really is rather easy to learn. The PADI open water course, which is the most wildly recognized and most used entry level scuba diving course, is made up of three-part (dive theory, pool sessions, and 4 open water dives) and can be completed over the space of a few weeks. You can learn to scuba dive anywhere in the world and with our PADI open water course, we can tailor it to be flexible and fit around your needs and time restrictions. If you are not sure about learning to scuba dive here in the UK can do have the option of a PADI referral which is where you complete the first two parts of the course here in the UK and then finish the course with your open water dives while on holiday somewhere hot but I will talk about that a little later

What does learning to scuba dive involve?

The PADI open water course is designed to teach you in a step by step process using some of the latest teaching techniques making it fun and enjoyable so you learn without feeling like you are learning. The first part of the course is the dive theory where you will learn about the effects water pressure might have on you and the air you are breathing, how your equipment works and the basic safety rules you need to follow. This is followed by a series of pool session where you learn the basic dive skills you need to scuba dive safely and be able to enjoy your scuba diving experiences while third part of the course is where you will be taken to an open water dive site and actually do 4 open water dives under the close eye of your instructor and dive team. Once you have completed these 3 stages of your course you will be qualified as a full PADI open water diver and be able to scuba dive anywhere in the world.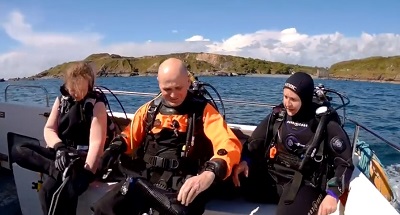 Dive theory

You have a lot of new and exciting equipment to use and ideas to understand and this part of the course is where we start introducing you to these new things. Designed by teaching professionals and constantly improved over the past 50+ years, there is a reason the PADI open water course is the way the world learns to scuba dive and with the introduction of the new online dive theory products, you can start your course in the comfort of your own home and in your own time. You can fit it around your work and home life, be it on your commute to work or while waiting for the children to come out of school. You can make it fit around your needs.
If you prefer we do also offer 1-2-1 dive theory session with one of our instructors where we will arrange a date and time for one of our instructors to come round to your home and go through it with you at your own pace once you have completed the home study part of the course which uses books and DVDs to take you step by step through the theory.
The materials themselves are made up of 5 chapters each covering a different topic and at the end of each of these chapters is a knowledge review, a small self-assessment if you like, where you can check to make sure you have understood everything and then at the end of the five chapters is the final test, but don't worry too much about it as it is just going over the stuff you have just read and tested yourself within the knowledge reviews and even if you don't pass, one of our PADI instructors will go over the things you didn't quite understand and make sure you are comfortable with it before letting you re-sit the test.

Pool sessions

During the pool sessions, called confined water in the PADI materials, you will start in shallow water which you can stand up in where you will go through the equipment you will be using and take your first breath underwater and yes you will sound a little like Darth Vader when breathing through your regulator (the bit you put in your mouth to breath) on the surface. You will then go for a swim to start to get a feel for the equipment and breathing underwater so that you feel comfortable with it and then to finish your first session you will be shown the first couple of skills such as how to clear your mask underwater and how to take your regulator out and put it back in underwater.
During your subsequent pool sessions, you will be given the chance to develop your buoyancy skills so you don't bounce along the bottom of the pool and have the chance to practice all of the safety skills. Now with most other dive schools you come across you will only have 5 pool sessions to learn these skill's but here at underwater adventures we offer unlimited weekly pool sessions so that you can learn at your own pace and have plenty of time to practice the skills you have learned so that you are completely comfortable with them before you move on to your next skill and if you like to can go back over skills you are not sure about during the next couple of weeks. We want you to be the best divers you can be, which is why we give you all the support and time you need to learn.

PADI Referral

This is the point in the PADI system where if you don't fancy completing your PADI open water course here in the UK you can finish the course while on holiday abroad in a nice warm country. Although the UK does have a lot to offer scuba divers, it is not for everyone and this option does give you the chance to get the bulk of the course out of the way here in the UK so that you are not wasting any of your valuable holidays stuck in classrooms or swimming pools when you can be out diving amazing reefs.
With the referral system, we will take you through the first two parts of your course and sign the certificates to show you have completed them which you will then take with you to your holiday destination and give them to the dive centre over there. They will then give you a quick pool session just in case it has been a while since your last pool session and to give you and the instructor a chance to get to know each other before taking you out to sea for your 4 open water dives over two days. This is a great option for those of you who will only scuba dive when on holiday but the main drawback to this is that it often works out a lot more expensive as you are having to pay two different dive centres. This option doesn't exclude you from scuba diving in the UK though as even if you have taken this option we are happy to have to join our dive club when you get back and ease you in to scuba diving in the UK and teach you the extra skills you may need such as how to dive in a dry suit or use a delayed surface marker buoy.

Open water dives

The final part of your course is your 4 open water dives. This will take place over a weekend, or two if you prefer, and you will complete 2 dives a day. During these dives you will demonstrate a few of the skills you have mastered in the pool mostly just to confirm to yourself that you can do them anywhere, and you will have a nice little swim around and enjoy the fish and marine life you see, all while under the close eye of your instructor and the dive team who are there to guide you and make sure you are safe and relaxed.
At underwater adventures, we use a specialist scuba diving lake where has been cleared on dangers, stocked fish loads of different fish and even had a few wrecks especially sunken for you to investigate including a London double Decker bus and a jet airplane which you can sit in the cockpit of. It is a friendly site with loads of other divers for you to chat to, a fully stocked dive shop and a cafe for the obligatory bacon butty and cup of tea after the dive.
Once you have completed your forth open water dive you will be a fully qualified PADI open water diver who is confident and relaxed enough to scuba dive anywhere in the world and explore some truly amazing places while on holiday or you can join the underwater adventures dive club which will give you access to all of our dive trips around the UK and aboard plus you'll get to meet some great people who love diving and will be able to guide you through any area of scuba diving you wish to pursue.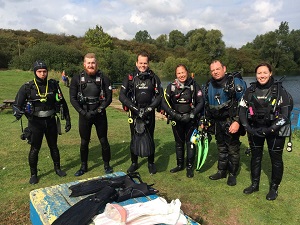 What's next?

Learning to scuba dive opens up a whole new world for you with many different things and places to explore, be your interests in a wreck, of which we have loads around the UK coast, or wildlife, either just seeing them or taking pictures of them. The most important thing to do once you have learned to scuba dive is to keep diving.
As a new scuba diver you can take the option of starting some specialty courses to learn more about an area that interests you or you can take the option most other divers do which is the PADI advanced open water course where you will experience 5 different areas of diving, from wreck diving to search and recovery diving, so that you can better get an idea of what sort of diving appeals you to. Or you can just carry on as an open water diver and join dive trips to explore your new skills and all the cool things most other people never will get a chance to.
If you are still not sure if scuba diving is for you then why not do a taster session beforehand? This is just an hour long pool session where we will take you through the basics of scuba diving and give you a chance to try it out. The PADI version of this is called Discover Scuba Diving and we run these sessions monthly at out pools.
If you still have questions about learning to scuba dive we also have an FAQ's page which you can check out by clicking here.
So if you have whetted your appetite for scuba diving and would like to book on a course or you just have some questions which weren't covered in the FAQs page please feel free to give Steve a call on 07805045867 or drop us an email at info@underwateradventures.co.uk