20 thing you need to know about learning to scuba divePublished 28/01/2020
20 thing you need to know about learning to scuba dive
Is it safe?
Yes, well as safe as any other sporting activity and much safer than some others. Unlike most other sports, the first part of your training is mostly how to deal with a problem which might occur while you are scuba diving and you get to practice these skills in the safety of a swimming pool before moving on to the real thing. Generally speaking, as long as you keep an eye on your depth and the amount of air you have left you should be fine, plus you should always be diving with a buddy who is there to help you out should any problems arise.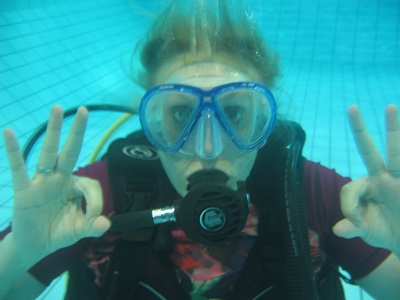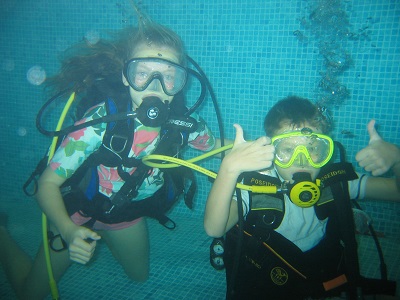 Can anyone learn to scuba dive?
Pretty much yes. The minimum age to complete the full PADI open water course is 10 but children can start in the swimming pool from the age of 8 with the PADI bubblemaker program and there is no upper age limit. So as long as you are relatively fit with no major medical problems, you can learn to scuba dive.

Is it hard to learn how to scuba dive?
No, the course is designed to be open to all and as long as you pick a good scuba diving instructor who doesn't rush you, it should be easy and fun. The way the course is worked out is to allow you to learn with small steps and to give you time to feel comfortable with each skill before moving on to the next one.

Can I have a go first to see if I like it?
Yes, you can with the PADI Discover scuba diving program or something similar offered by one of the other training agencies. The idea behind the Discover Scuba Diving (DSD) program is to give anyone who has never scuba dived before a chance to try it out and see if they like it. The Session involves a safety briefing and a rundown of how the equipment works before getting in the water for your first time breathing underwater, it's amazing being able to breathe underwater. Once you are comfortable with that you will be given the chance to have a swim around and you will be shown a couple of basic skills like how to get water out of your mask without having to come to the surface. If you would like to book a discover scuba diving sessions with underwater adventures, please click here.

How much does it cost?
Scuba diving can be an expensive sport, but it doesn't always have to be, just take your time with courses and use hire equipment until you have time to buy your own. With most open water courses the equipment is included along with air fills and PADI fees, When picking a course it's probably best to steer clear of places which offer prices that don't include all the PADI fees or you have to book into another part of the course like the open water dives so that you can complete it at an extra expense.
Generally speaking, you should be looking between £550 and £650 for a full PADI open water course which is a really good price for what you are getting as these courses are normally made up of at least 30 hours of course time with a high ratio of highly trained scuba diving professionals to students on each course plus at the end, you receive a qualification which can last you a lifetime and open up a whole new world. If you come across a dive centres whose price is a lot below this its probably a really good idea to ask yourself why it's so cheap before signing on to learn to scuba dive with them.

How long will your Open Water Course take?
The minimum PADI standards state that the course should take at least 30 hours and should include at least 5 pool sessions and 4 open water dives plus the dive theory section of the course. With the new PADI online system you can complete the dive theory part of the course online or by downloading it to your phone or tablet allowing you to complete this part of the course anywhere and in your own time, so no more stuck in a boring classroom.
Please remember that these are the minimum standards and it is much better for you as the student if you get as much time as you need to learn these skills which is why at places like underwater adventures you get unlimited pool session included with the course which lets you learn at your own pace so the course can take as long as you need or be finished in time for your upcoming holiday.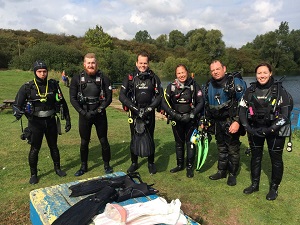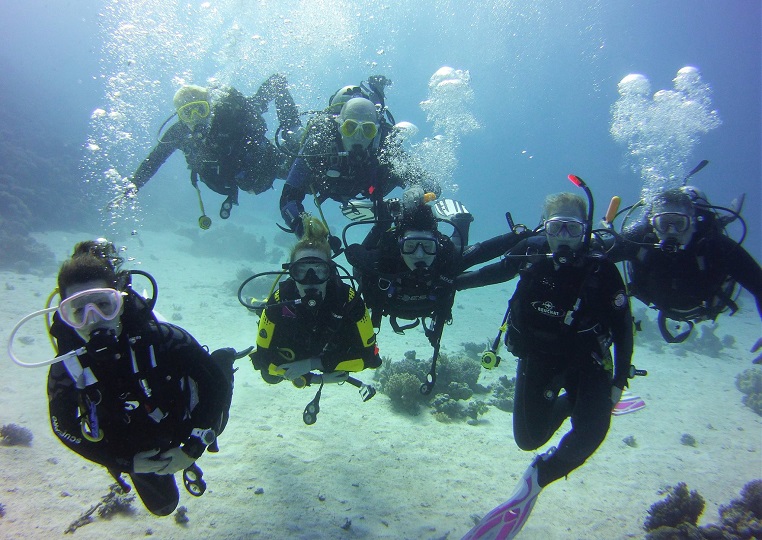 Can I do my open water course here in the UK?
Of course, you can and it is much better to learn here in the UK rather than using up some of your hard-earned holiday learning to scuba dive while aboard, plus the UK has some of the best scuba diving around, from scuba diving with grey seal common seal (check out our video here) to some of the best wrecks including the German Grand Fleet which scuttled itself after the end of the first world war.
There is another option as well which is the PADI referral system where you complete the dive theory and pool sessions here in the UK and are given a referral form which you can take with you on holiday and give it to a dive centre over there so that you can complete your open water dives while on holiday limiting the amount of holiday time you spend on the course. You can contact underwater adventures to find out more about this option by clicking here.

Is it cold?
It can be if you dive in the winter but that is the same everywhere. As long as you are wearing the right clothes you should be fine. It's just like Skiing, you are up there on a snowy mountain but because you have the right clothing on you feel fine.

Which agency should I learn with?
There are a number of different scuba diving training agencies out there from BSAC to SSI but let's face it, the one everyone knows is PADI and that's because it's the biggest and most widespread training agency out there. To be honest, most of the training is really similar because PADI found a good way of teaching people and everyone else copied it to some extent so it doesn't really matter if you go with a different agency, it's just that PADI is the biggest and most widely recognized in the world.


What's involved in the training?
As we have already mentioned above, the course is split into 3 basic parts, and this is the same no matter which agency you learn with. You have the dive theory where you learn how things work and the affects things like the pressure has on us. The confined/pool sessions where you learn the safety skills and basic control you need to be able to scuba dive and the open water dives where you practice these skills in the open water under the close watchful eye of your instructor.

Do I need to be able to swim?
Yes, but it's more of just to make sure you are comfortable in the water. For the PADI open water course, you will need to complete 200 metres although you can use any stroke and there is no time limit and be able to tread water/float in the water without an aid for 10 minutes


I want to learn to scuba dive with my partner, is that OK?
That's perfectly fine, you can learn together and then travel the world scuba diving together sharing the adventure and the memories together.

Can my children learn to scuba dive as well?
Yes, children from the age of 10 onwards can learn to scuba dive and be issued with the Junior open water certificates which they can up-grade through PADI without having to take another course when they turn 15. Younger children from the age of 8 can take part in bubblemaker and seal team programs which teach them the basic scuba diving skills in the safety of the pool without any open water dives.


I'm nervous, is that OK?
A lot of people are a little nervous when they first start to learn to scuba dive and that's fine, just speak to your instructor beforehand and they will help you either by talking through the things you are nervous about or maybe by even giving you a couple of personal one 2 one sessions to help show you there is nothing to worry about.

I have a medical condition, can I still learn to scuba dive?
For the most part, yes although we will need you to be signed off by a doctor before going into the water. As long as the medical condition is under control, most of the time they will be able to sign you off to scuba dive. You can download the PADI medical form by clicking on this link


I have a disability, can I still scuba dive?
Of course, you can just speak to your local dive school or PADI themselves if you don't know where your local dive school is, and they will be able to work with you to teach you how to scuba dive. There are even a number of charities here in the UK whose sole purpose is to help disabled people learn how to scuba dive. Check out this link to the scuba trust here.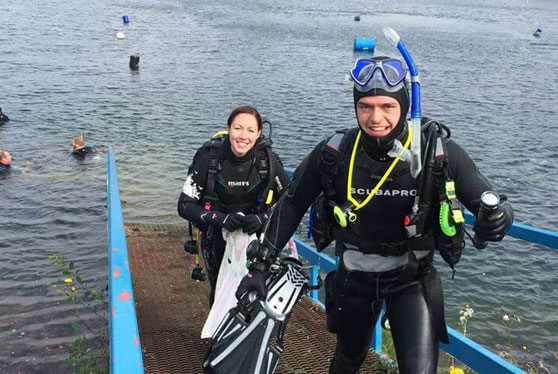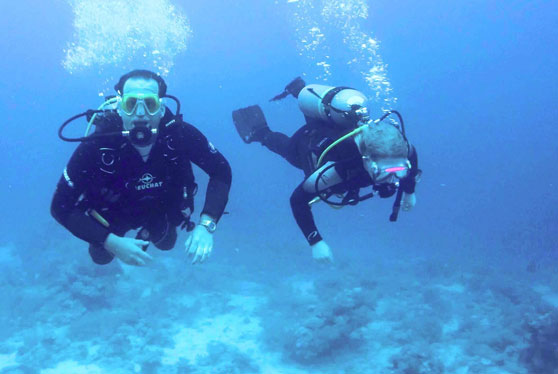 Do I have to own my own equipment?
No, your basic equipment should be included in the price when you book on to your PADI open water course. Once you have learned to scuba dive you may want to look at getting your own equipment and although the most popular place to do this is on e-Bay, we would strongly advise that you get any equipment bought off e-bay serviced before you use it. The best option is to just buy one bit at a time and not to rush into buying the full kit straight away so that you learn what equipment you like and what you actually want so that the equipment you do end up buying lasts you for years of scuba diving fun.


I'm afraid of being eaten by sharks
Most Sharks are so scared of humans that they will swim away as soon as you enter the water, such that after a while of scuba diving you will actually start going on scuba diving trips to try and see sharks as you will learn that they have been given a really bad rap by the media and films like Jaws and that they are in fact some of the coolest and most beautiful creatures on the planet.
Another way to look at it is that nearly all shark attacks on humans, around 80 in the whole world each year, happen to people on the surface and that the very rare time scuba divers are attacked it is always while spearfishing. So, if you don't want to be any part of the already incredibly small chance of a shark attack, the best thing you can do is learn to scuba dive, or never ever go in the water.

Is it fun?
Yes, Yes, a million times yes. Scuba diving is really fun and yet still one of the most relaxing sport you can do. What other sport gives you the chance to not only travel the world but gives you the chance to see things no other human being who doesn't scuba dive can. 71% of the world is covered in water and as a scuba diver, you get to visit it unlike anyone else.


What comes after your Open Water Course?
More scuba diving. Once you have learned to scuba dive the most important thing for you to do is keep scuba diving. Like any other skill, you need to practice it especially when you have only just learned the skill. So once you have learned to scuba dive find a local dive club and join so that you get the chance to carry on scuba diving and practicing those skills.