Benefits of joining your local dive clubPublished 12/02/2020
Your local dive club is basically a group of people who get together regularly, normally over a pint down a pub, and chat about what diving they have done and what dive trips they are planning. There will be a pool nearby where they will complete training dives and for those who want to, there's normally space to just jump in and wash the cobwebs off or just try out a new bit of equipment. But the main Benefit of your local dive club is that it will be full of people who love and want to go diving and as such, they will be arranging dive trips all over the place which you can join and experience things you never thought you would.
The fact that you have a lot of really spectacular scuba diving here in the UK is not something most people think about but trust me we do. For a lot of people, scuba diving is something that only happens once a year while on holiday where they will get a couple of dives in with people they don't know while their other half is off doing something else or just chilling on the beach. While this is all fine and well, it does mean most of these divers miss out on a lot of the really cool stuff diving can offer as they will spend most of those couple of dives trying to remember how to dive as it would have been around a year since they last went diving, and although you can do a PADI reactivate before going away, nothing beats just getting a bit of regular experience under your belt and this is where joining a dive club comes into it own. Not only will you have access to a pool to practice in but a load of other divers to go diving with and dive trips close to home where you can dive regularly.
There is something special about rocking up to a dive site somewhere you have never been before with a few friends and just going for a dive. It doesn't matter what the weather is like, it the company which makes scuba diving in a dive club the most fun. Someone will always bring treats and they will be plenty of tea and coffee floating around along with a bit of banter and this is all before you get to explore this new dive site and the wonders it has to offer.
Dive clubs, like many other social clubs, are about the friendships you make while doing something you enjoy and so with this in mind, below I have listed just some of the benefits of joining your local dive club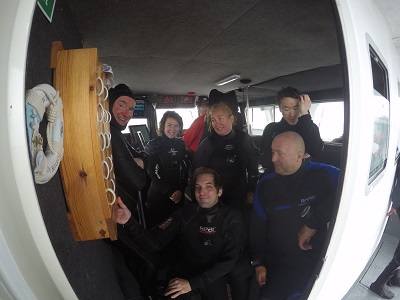 Good people who enjoy doing the same things as you.

It seems rather obvious really but a dive club is full of divers and if you enjoy diving you are more then likely going to enjoy being around other people who like diving. You will find all sorts in a dry club, from the old diver in the corner who's was best mates with "old Jacques Cousteau" himself and has so many stories to tell, through to the young new divers who are still really excited about everything, but most of us are just normal people who are fun to be around and really like diving.

Lot's of dive trips

There will be so many dive trips going on that you want to join you won't be able to fit them all in. Most weekends during the summer and Autumn months someone will be arranging a dive trip somewhere and even during the winter months, a few hardy souls will be venturing out for a dive somewhere as long as it not blown out. There are so many things to see around the coast of the UK and even it the weather is a bit ruff on the coast we have loads of inland dive sites to go and explore.

Foreign holidays

There are many awesome places around the world that we all want to dive and while you may to the opportunity to dive some of these with a family holiday, the chances will be rare, and this is one of the reasons we have so many scuba diving holidays abroad. It gives us the chance to dive into the best places and see the best sights underwater. Maybe it's going to dive with Manta rays (click here to see the video) or dive a famous wreck (see the video here) There are so many things to see and why not do it with a group of friends and importantly, divers you trust to dive with rather than some random divers you've only met just before the dive on the dive boat. Diving is so much more relaxing when you can do it with someone you know and trust.
As an added bonus, booking in a group will normally mean you'll get a bit of a discount on the cost of the holiday, although it'll only be 5 or 10% it's still better than nothing especially when you think of how much some holidays to exotic locations can coast.

Training to be a better diver.

Your local dive club will either have a training arm or be attached to a dive shop which offers training and extra training after your PADI open water course will not only allow you to dive deeper (deep diver) Longer (enriched air/Nitrox) inside things (wreck diver), or be able to find lost things underwater (search and recovery diver), it will build you confidence and experience. This allows you to be able to enjoy your diving more both here in the UK and abroad.
What you will also find is that learn new skills with people you already know is a lot easier and you will get more out of it because you are more relaxed with them and they will understand you more and be able to tailor their training toward you.
Equipment rental so you don't need to buy all your stuff straight away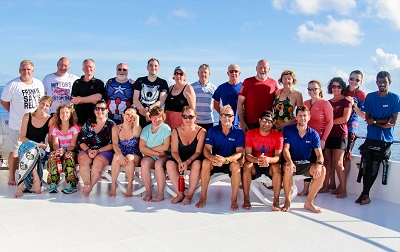 You've just learned to scuba dive and you want to carry on but you don't have your own equipment. Don't worry, your local dive club is there to help.

It may not be the coolest and best-looking equipment but it will all work and will keep you diving while you learn what equipment you want and you can take your time in buying what can be rather expensive scuba diving equipment.
Discount's on stuff.

Whether it's a discount on a dive trip as mentioned above, a discount on courses run through your club or discounted equipment, being part of a club allow you access to the group discount which is normally offered and although scuba diving isn't the most expensive hobby once you get the initial out of the way a discount is always a good thing to have.
This is just the tip of the iceberg when it comes to the benefits of joining your local dive club but the most important benefit you will get from joining your local dive club is that you will keep diving. Scuba diving is a wonderful sport that can be both exhilarating and relaxing while giving you the opportunities to see and experience things most people will only ever see in a David Attenborough documentary but so many people fall out of scuba diving because for the perceived lack of opportunity. Don't be one of those people and let this wonderful chance slip away and follow the link HERE to find your closest underwater adventures dive club.