What is the PADI Reactivate course?Published 07/06/2020
The PADI Reactivate course is a new course set up by PADI to replace the old scuba review course for those qualified divers who have not dived in a while but who wish to start scuba diving again. During the old scuba review course, you would be taken through all 20 open water skills by a PADI professional while going over the dive theory to help you remember what you learned when you first qualified whereas the PADI reactivate course only has a few required skills which will allow the PADI professional to tailor the reactive course more to your needs and well as having an online theory section for you to complete before the pool sessions to help refresh your memory of the dive theory you learned during the open water course
This flexibility helps you as the diver gets more from the course while building up your confidence before going back into open water and scuba diving again. The other benefit of this course is that once you have completed your PADI reactivate you will be issued with a new PADI certification card with the new date on it for you to show any dive centre to prove you have completed some diving recently and that you won't need to go through any refresher training again and can start scuba diving straight away.
What is involved in PADI reactivate?

When you sign up for your PADI reactivate course you will be registered with PADI by use of your old PADI number, don't worry if you have lost your card as we should be able to find your details on the PADI system with just your full name and date of birth. Once you are registered you will receive your access codes direct from PADI so that you can log on through the PADI website and start your dive theory. The Dive theory can be completed on-line or you can download it to your phone or tablet so you can complete it at your leisure even if you don't have internet access. Once you complete the online theory part of the course there will be a little test and then you will be able to print off a completion certificate which you can then take along to your dive centre for your first pool session. Most dive centre will give you one pool session but here at underwater adventures, we offer you 2 pool sessions to give you extra time to work on your buoyancy so that you feel completely comfortable back in the water.
During the pool session, your PADI professional will take you through a couple of basic skills such as a full mask clear and regulator recovery so that you feel comfortable with them and then work with you to brush up on any areas and skills you don't feel comfortable with, they will also go through with you the simple things that may have slipped your mind such as hand signal so you can communicate underwater and basic equalization techniques. You will also be given time to just swim around under the water so that you can get used to the balance of the scuba equipment again and then during the second session your PADI professional will be there to go over any questions or skills you still and not sure about and you will be given plenty of time to work on your own on anything you would like to practice in more detail, all the while under the supervision of your PADI professional.
Once you have completed the PADI reactivate course the dive centre will confirm this with padi so that your new PADI card will be sent out to you and this is when you can update your picture, the picture on the back of your PADI card can sometimes not be the best as a lot of the time it was taken straight after you have finished your last dive and so this is an excellent opportunity so you can take this opportunity to have a nice picture on your new card. With this new card, you can dive anywhere in the world up to your normal dive limits without having to waste your valuable holiday time stuck in a classroom or pool and can go straight into enjoying your scuba diving again.


Who should do the PADI reactivate course?

The PADI reactivate course is open to anyone qualified diver but should be used by anyone who has been out of scuba diving for 6 months or more. That being said, if you have only completed your open water course and did no diving after that we suggest a maximum of a 3-month break before doing a PADI reactive. The Best thing to do is to just keep scuba diving when you can and the best way to do that would be to join a local scuba diving club where you will find loads of like-minded people and be given plenty of opportunities to carry on diving. You can find your nearest Underwater adventures dive club by clicking here


How much does it cost?

Prices vary between £80 and £150 for a full PADI reactivate course. Here at underwater adventures, we offer the standard course for just £99 and you can upgrade to include an open water dive for just an extra £50. During the extra open water dive, you will get to go on a dive with a group while under the supervision of a PADI professional to help build your confidence and the PADI professional will keep a close eye on you so that after the dive they can point out any little tips to help you improve your scuba diving.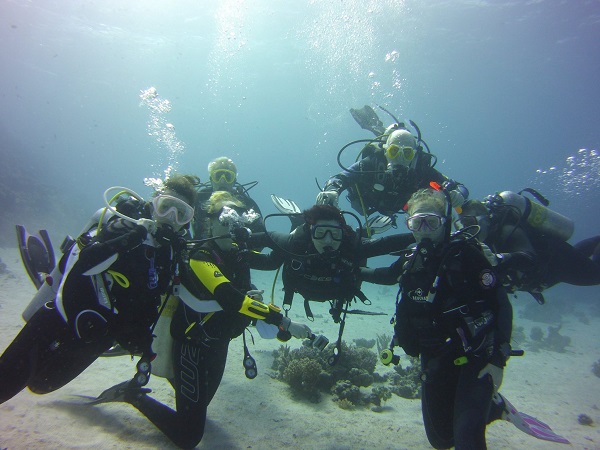 How do I book on to a PADI reactivate course?

You can drop us an email here at info@underwateradventures.co.uk or through the contact us page, otherwise, you can book directly through the PADI reactivate webpage linked here, but if using this option please remember to add your padi number or full name and date of birth during the check out page.
You can find out more about the PADI reactivate course by checking out the underwater adventures reactivate course page by clicking here
What comes next?

The best thing you can do is to keep diving whether here in the UK or abroad and we can help you with that as the underwater adventures dive club run dive trip throughout the year both here in the UK or if you prefer abroad to sunnier climbs and these trip are run throughout the year.