Whats so great about scuba diving in the UK?Published 29/05/2020
There are approximately 100,000 active divers in the UK at the moment and although the UK doesn't have the sunny beaches and tropical water you would find in the Red Sea or on the Great Barrier Reef, thousands of people visit the UK each year to scuba dive. So what is it about scuba diving in the UK that makes it so good?
Abundent marine Life

When Most people think about the sea around the UK they think of cold water which is kind of green looking and that can be true in some places but the reason it is a bit green is because it is full of phytoplankton and zooplankton which are the small animals and plants which sustain marine life and because we have cooler water around our coast, it has a lot more nutrients in it so basically we have the perfect conditions around our coast to support huge amount of marine life, from Whales and dolphoins to small sand eels and little Blennies, there is so much to see around our coast you will be truly amazed at what you can find.
As scuba divers we get to see this and so much more. From cool looking Rays (check out the video) through Playful Seals (click here to see) through the most beautiful blue sharks (video of us swimming with the blue sharks). We are so lucky in the country that we have such amazing things right on our door step and the best way to explore it all is to scuba dive and with a nice warm drysuit you can in comfort. If you have never used a drysuit before that's fine as for most of the dive season a 5 mm wetsuit is perfectly fine to keep you warm, it's what I use and I do a lot of diving here in the UK.
If you are into your underwater photography then diving in the UK will challenge you with the different light and the plankton in the water but will allow you to take pictures you never thought possible while giving you some truly amazing pictures to show off afterwards.


Wrecks, Wrecks, and More Wrecks

Rule Britannia and all that, the UK has a long and distinguished history on the wave and with that come so many wrecks and all of them have some sort of history behind them. From the recent like the purpose sunk HMS Scilla just outside of Plymouth harbour to the German high seas fleet which scuttle all of their ships in scarpa Flow after the first world war. There is just so much to see and so much history and to make it even better, that abundant marine life I have just been talking about loves to hang around on wrecks as well so you get two for the price of one. You could be dive the Wreck of the M2 out of Portland, The M2 is a British submarine aircraft carrier from between the two world wars, and all of a sudden you could be surrounded by a big school of herring and cod.
If you are looking for something a bit older there are old 18th century steam ships like the SS Mohegan in south Cornwall or of you want a bit futher bank, just up the road from there just outside Falmouth there is a sand bank which is made up of 18th century cannons from a group of ships which wrecked themselves they during a storm 300 years ago.
Surfice to say, The UK has some of the best wreck diving in the world and most of it is open up to recreational divers so you don't have to worry about getting technical and worrying about long decompression stops so it is just like you would find on holiday.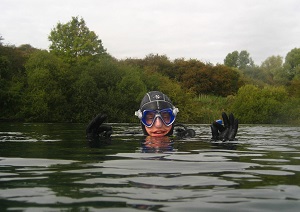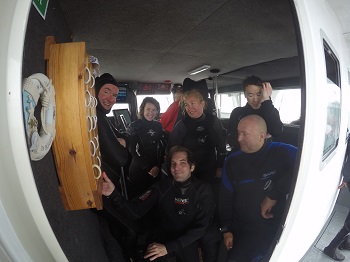 Excellent infrastructure and facilities

Being a first world country you would expect pretty good infrastructure as standard, none of these horrible bumpy dirt roads, a decent café where you are not worrying about hygiene to get a cup of tea and a bacon butty before your dive and good emergency services to help you should anything goes wrong, but what people are surprised by are the really great facilities we have to scuba divers. I'm just going to put this out there first, Dive lifts! We have dive lifts in this country and I have not seen them anywhere else in the world in my 16 years of scuba diving. None of this climbing up ladders after your dive to get back on the boat, we just swim up to the back of the boat and a lift will pick you out of the water with all your dive kit and puts you on board ready for your post dive cup of tea. It's awesome lol
Other then the diver lifts all of the dive boats have to reach high safety levels and are run by captains with years of experience in the local conditions which you would expect but on top of this most of the captains used to be fishermen so they know where the best places are to find marine life.
On top of the amazing dive lifts on our dive boats we also have a very safe and well regulated diver training programmes and dive schools and shops which will cater to your every need plus a number of inland lakes where you can practice your scuba diving skills so that you can really enjoy all the great scuba diving the UK has to offer.
All of our dive shops are well stocked with a wide range of equipment and most offer partial pressure blending on your Nitrox fills instead of membrane compressors giving you, the customer, a full range of potential gas mixes instead of the general 30% you will find at most holiday destinations.

If you would like to know more about scuba diving here in the UK you can contact us by Clicking here or you can check out the dive clubs page for more information about the sort of stuff we get up to by following this link