How much does it cost to learn to scuba dive?Published 13/01/2021
This is a question I get asked a lot and the short answer is that here in the UK the average cost of the full PADI open water course, according to PADI EMEA's pre-Christmas webinar, is around the £600 mark and this normally does not include and extra training that might be needed or any extras like dive site entry which vary depending on where you are based. So, if you consider any extras and things like travel expenses, food, and a nice cup of tea you are probably looking at closer to the £700 mark for everything you need to pass your PADI open water course.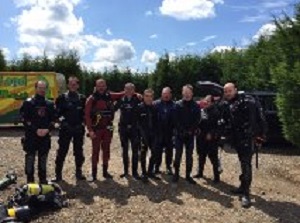 Obviously, this price will vary depending on which country you are in. The UK tends to be on the higher end of the price list due to the environmental conditions, governmental rules, and the Health and Safety standard we must adhere to but that also does mean that the class sizes are smaller, and all dives have at least one safety diver with the group and at least one person as shore support to help deal with any problems either on the boat or onshore but within visual range of all the divers.
Countries, where there is less legislation and regulation in place, will tend to have cheaper courses so areas like South East Asia tend, overall, to have the cheaper courses, not including getting or staying there, and although these courses will be to all PADI standards and will still be safe for you to learn to dive in, you will on average be in a much larger class with less time with the instructor.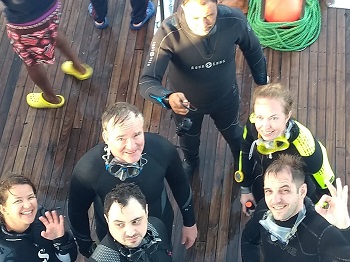 The cheapest course I've been able to find was in Koh Tao, Thailand where the average was 11,000 baht (£259.87 or $366.06 at today's prices) with the most expensive is a little more difficult to find as the more expensive places tend not to brag about that, but I have found open water courses in Singapore for 1200 Singaporean dollars (£666.81 or $905.03) and the Maldives for around 20,000 Rufiyaa (£956.30 or $1298.20) these prices do include the hidden extra's I have been able to find but obviously don't include any travel or accommodation costs incurred with going to these countries to learn to scuba dives.
Ultimately, you will get what you pay for. If you go to South East Asia, you will get a cheap but busy course with little time with the Instructor. If you learn to scuba dive in the Maldives, you will learn in a small group, be well looked after, and have some excellent scuba diving to enjoy. You will also find the better instructors will be where the pay is better so where you will be paying more for the course thus the more you pay the better the scuba diving instructor will be and the better the learning experience will be.
There is also another option open to you call the PADI Open water referral system where you buy the first part of your course, Dive theory and pool sessions, at home and then you will be given certificates to show what you have completed, and you can take them with you to any dive centre in the world and complete your course with them. Although this does tend to work out more expensive in the long run it does allow you a lot of flexibility and means you don't eat up any of your precious holidays without being stuck in a classroom or practicing skills in a pool, you can just finish your course with the open water dives and then use the rest of your holiday enjoying yourself which is actually what we all want to do with our holidays. This option also works well if you live in cooler climbs and would like to learn during the winter months as you can get all the training done over winter and finish it with a nice little trip to somewhere warm to finish your course thus being ready and fully qualified to make the most of the scuba diving season in your home country.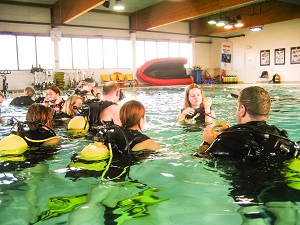 A number of the dive centres in cooler climates will offer not only a referral but also dive trips where you can get the benefits of a referral by completing your dive theory and pool sessions at home but then join the dive centre on a dive trip to a nice holiday destination where you can complete your PADI open water course in warm water and with the instructor who took you through the earlier parts of your course giving you the added benefit of familiarity with the dive team you are learning with.
All in all, there are a number of options for you to learn to scuba dive and the cost can vary a lot by where you choose to do your course and it really is a case of you get what you pay for but the most important thing is for you to speak to the dive centre beforehand and also speak to the instructor you will be using as your instructor will have the job of making sure you are comfortable and relaxed in the water and that way making it easier for you to learn the skills needed to become a safe scuba diver and enjoy the amazing things we can find underwater.