Do you have to be in good shape to scuba dive?Published 10/04/2023
You do not have to be in shape to scuba dive, but it is recommended that you are in good health and fitness. Scuba diving can be physically taxing, so it is important to be able to handle the exertion. You should also be able to swim and be comfortable in the water.
If you sign up to your PADI open water course you will need to be able to swim 200 metres non-stop and then float or tread water for 10 minute but this isn't so much about your fitness but more about making sure you are comfortable in the water which is why there is no time limit on the swim and you can float for 10 minute which just means being able to control your breathing, everyone floats if you relax and control your breathing.
If you are not sure if you are in good enough shape to scuba dive, you should talk to your doctor. This can be your local GP or if you contact us here at underwater adventures we can put you in contact with a specialist scuba diving Doctor who will be able to help you.They can help you assess your fitness level and determine if scuba diving is right for you.

You can also find the PADI Medical form here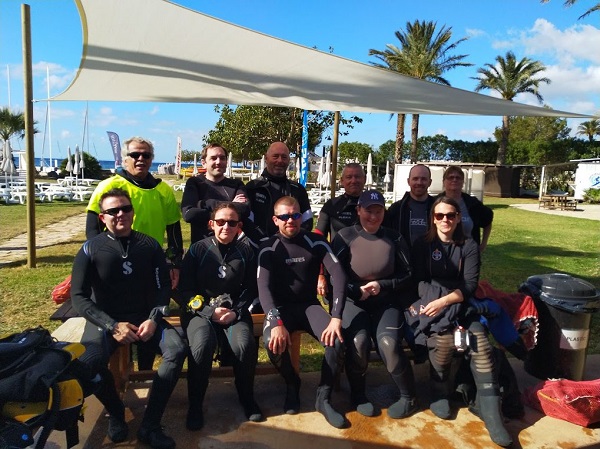 Here are some tips to help you stay fit and healthy for scuba diving:
Exercise regularly. Aerobic exercise, such as swimming, biking, or running, can help improve your cardiovascular fitness. Strength training can also help improve your overall fitness.
Eat a healthy diet. A healthy diet will help you maintain a healthy weight and give you the energy you need to dive.
Stay hydrated. It is important to stay hydrated before, during, and after diving. Drink plenty of fluids, especially water.
Get enough sleep. Sleep is important for overall health and well-being. It is also important for diving, as it can help you avoid fatigue.
Avoid alcohol and drugs. Alcohol and drugs can impair your judgment and coordination. They can also increase your risk of decompression sickness.
If you follow these tips, you can help ensure that you are in good shape for scuba diving and have a safe and enjoyable experience.
If you are not sure yet if scuba diving is for you then why not do a try scuba diving experience here with us at Underwater adventures? you can find the detail by clicking here