What is the PADI open water course?Published 27/01/2020
What is the PADI open water course?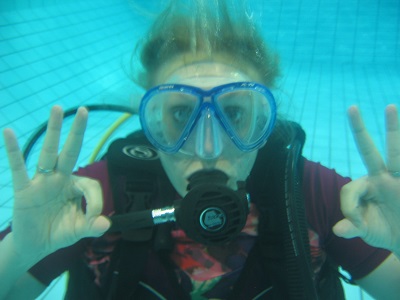 The PADI open water course is the entry-level scuba diving course offered by PADI (Professional Association of Diving Instructors) and is the most widely taught and recognized scuba diving course in the world with PADI dive centres teaching people to scuba dive with this course in pretty much every country in the world, 183 out of 195 countries, and in 26 different languages. So, if you want to learn to scuba dive, this is the way to do it.
The PADI open water course is designed to give new scuba divers the basic knowledge to scuba dive safely while keeping it fun and relaxing by using the most up to date teaching technics and educational theory which is why the PADI system has been copied by pretty every other training agency out there.
The PADI open water course is made up of three parts, dive theory, confined/pool sessions, and open water dives. During the dive theory section of the course, a student will learn how scuba diving equipment works, why we have set rules for how long we can stay underwater and how deep we can go and how best to protect the marine environment so we don't damage it for future scuba divers in the generations to come. The Dive theory can be completed in two ways, either in classroom sessions with your instructor or online. Here at underwater adventures, we have switched to the online theory as it offers a lot more flexibility for our open water students as you can download it and complete it at times to suit you but don't worry, if you get stuck there is always one of our instructors available at the end of a phone to explain any parts you are not sure about.
The second part of the PADI open water course is the confined/pool sessions which as the name suggests, takes place in either a pool or an open water area with pool-like conditions. These will normally number 5 hours of pool time which in the minimum PADI standard but again, here at Underwater adventures we like to use modern teaching techniques and we understand that people learn in different ways and at different speeds which is way as part of the course we offer here at Underwater adventures, you get unlimited pool session over the dive session so you can learn at your own pace and we will never rush you. We will give you time to learn how to control your buoyancy before moving on to focus of the safety skills so that when you do pass the course and go diving anywhere in the world, you will be diving like a veteran diver instead of a newbie and you can truly enjoy your scuba diving experience. The wat we see it, if you were learning to ride a bike, you would learn how to balance the bike first so that you are stable before moving on to any other skills so why should be scuba diving be any different to any other skill set.
Once you have become comfortable with your buoyancy skills, we will move on to some emergency drills so you understand not to panic if you run low on air (which you should never do as you have a set of gauges on your hip telling you how much air you have left) and what to do if you get entangled, the answer to both of these involve your buddy which is why PADI divers always dive in a buddy pair. We will also go through together with you on how to deal with things like your mask getting some water in and how to check for proper weighting so that you can skink with a wetsuit on.
The final part of the PADI open water course is four open water dives. You will have the option of diving in a specialist scuba diving lake just south of Peterborough or joining one of the dive clubs trips to either Lanzarote or the south coast of the UK to complete these dives. During the dives you will go through a few of the skills you have learned in the pool/confined water sessions such as mask removal and replacement and regulator recovery while showing off your awesome buoyancy control and you will be asked to demonstrate a couple of safety drills, more so you know you can do them in the open water should a problem arise. You will also get to swim around and explore the underwater environment, checking out wrecks and looking for marine life such, from different fish species to crustaceans and invertebrates. The main point behind these open water dives is to give you confidence in your own abilities to scuba dive so that once you are finished, you can go off into the scuba diving world and enjoy this amazing sport anywhere in the world.

What is the requirement to start a PADI open water course?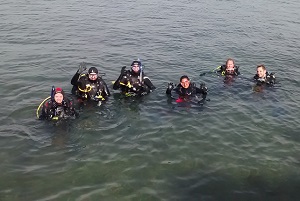 As long as you can swim and are comfortable in the water with no major health issues, you should be fine to sign on to a PADI open water course. The course requires you to be able to swim at least 200 metres in any stoke with no time limit and be able to float/tread water for 10 minutes. If you feel you may struggle with this, we can point you in the direction of a number of swimming schools which can help any age of potential scuba diver to improve their swimming skills. Check out the link HERE.
You will need to fill in a basic medical form along with other standard PADI forms before you start your course and I have placed a link HERE to the PADI medical form for you to take a look at. Even if you answer yes to any of the questions, you will just need to have your own GP to sign you off as fit to dive which you can also do with this form.
Other then this, all you will need to book on to a PADI open water course is a swimming costume, towel and a sense of adventure.

How much does it cost to learn to scuba dive?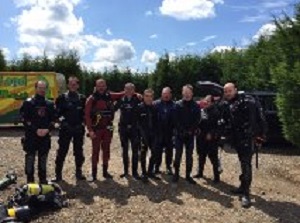 As with most things in life, you get what you pay for. So if you go with the cheapest you will often find hidden costs somewhere down the line or you will find yourself on a course with a number of short cuts and being rushed through the skills so they can get the next bunch of students through the door. The normal cost of an open water course here in the UK is between £500 and £600 all in and for that you should get access to everything you need to learn safely and in a relaxed atmosphere. If you find somewhere cheap, I strongly suggest you give it a miss as they are cutting corners somewhere.

What can I do once I have my PADI open water certificate?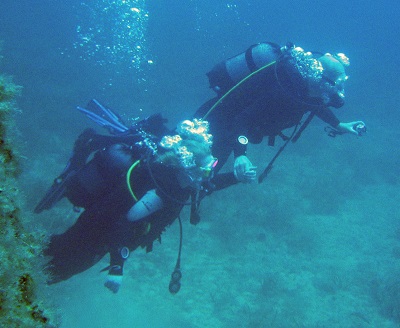 You can scuba dive pretty much anywhere and see so much awesome stuff.
The PADI standards state that after you have received your PADI open water certification you can dive anywhere in conditions equal to or better than you learned with a buddy down to a depth of 18 metres. So, if you learn here in the UK, you are better placed then most to be able to enjoy scuba diving around the world and with the cooler water and stronger currents here in the UK then you will find in most holiday destinations, you will be well prepared to jump in and go for a dive when you are on Holiday. We also have some amazing diving here in the UK Suah as diving amazing wrecks (click here for a video) or getting to play with some amazing wildlife such as Grey seals (click here for the Video)

How do I book on to a PADI open water course?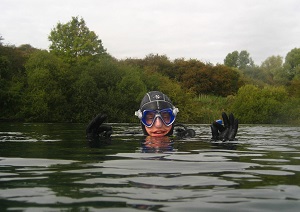 Just by giving your local PADI dive centre a call or dropping them an email. We are based in Hertfordshire, Bedfordshire, and Cambridge so if you are in that area why not give us a call on 07805045867 or drop us an email at info@underwateradventures.co.uk . Alternatively, you can check out the PADI website for your local dive centre by clicking here.

What's next after your PADI open water course?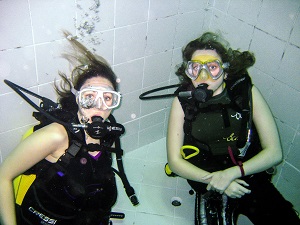 With 71% of the earth covered in water, the world is your oyster. Once you have learned how to scuba dive you have the chance to see things most others only dream about, but completing your PADI open water course is just the first step with loads of other courses you can take which will open new areas of scuba diving to you. Love Wrecks and their history? How about a wreck diving course that will show you how to safely enter a wreck? Love Fish and taking pictures? Why not try the digital underwater photography course and learn how to take better pictures while underwater which you can then show off to your friends?
Basically, once you have your PADI open water certification there is so much it opens up for you and you can spend the rest of your life scuba diving and still never see it all. So, don't what, book on to your PADI open water course today by clicking here.